READ THIS FIRST
Enhanced Audio Recognition [E.A.R.] Technology offers High Definition Audio with the lowest amount of Latency possible over an Optimal Internet Connection.

This is ONLY available for DUETS. More than TWO (2) people on the call at the same time will not work.

Headphones [without attached MICs are REQUIRED]. An External USB MIC is recommended but not necessary.

Teacher and Student must use a Computer, Laptop, Mac or Chromebook running GOOGLE CHROME. Mobile Devices will not offer optimal results.
To set up your Headphones, go to the bottom right corner of your screen and select the 3 dots (More Actions). Go to Settings. Be sure you select your Headphones for Audio Out.
FAILURE TO FOLLOW THESE STEPS WILL PRODUCE POOR RESULTS.
TROUBLESHOOTING ECHO
ECHO/FEEDBACK is caused when your computer/laptop/Chromebook/MacBook device is projecting the sound from your speakers and back into the Microphone you're using to speak.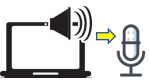 Wearing Headphones (WITHOUT a Microphone) will prevent this ECHO/FEEDBACK from occurring during your DUET. To set this up properly follow these steps.

Step 1. When you START YOUR LESSON, go to the bottom right corner of your screen where you will see 3 DOTS [MORE ACTIONS].
Step 2. Select Settings.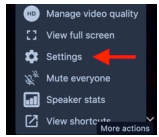 Step 3. Select Microphone.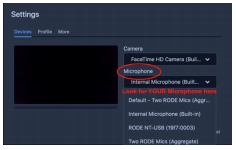 Step 4. Select your Headphones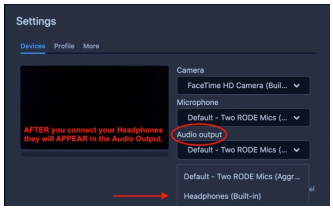 Step 5. Insert Your Headphones into your computer/laptop/Chromebook/MacBook device. Your headphones will appear in the Audio Output Drop Down. Please Select them and click: OK.
These 5 Steps are very important in creating the Ultimate Duet Experience. Failure to properly setup your Headphones and Microphone will result in a poor experience.

Using earbuds WITH a microphone will NOT work properly when using our E.A.R. Technology. Because the microphone is connected to the earbud, the microphone picks up sound transmission and vibrations from the earbud and will cause an unwanted echo and feedback. Having a dedicated headset and dedicated microphone (laptop microphone or USB  microphone) will give you an exceptional audio experience when taking your virtual music lesson.