Your Account, Subscription, Your Room and Cancelling your Membership
Once you have created your account you can modify your Subscription, Your Room ID (Your Room Name), Your Name, Your Credit CardInformation or Cancel Your Subscription.
There are No Contracts when you subscribe to RockOutLoud.live. Membership is on a Month to Month Basis and can be Cancelled at any time. RockOutLoud.live does not store any Credit Card information on its servers.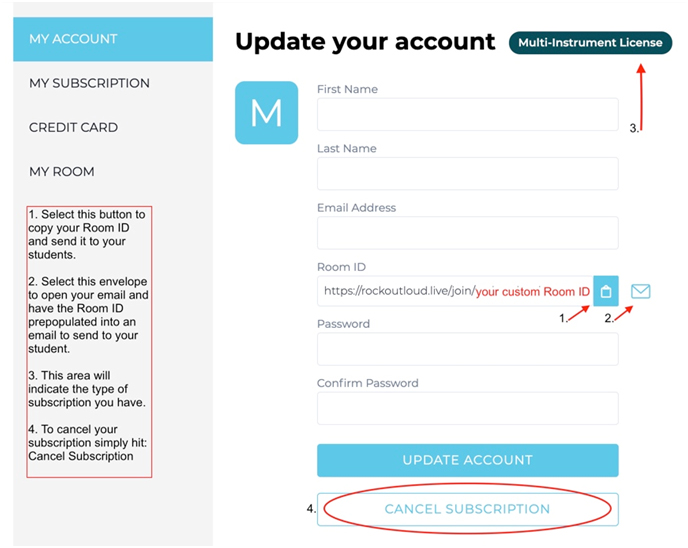 Changing your Subscription
Under My Subscription, you can Upgrade or Downgrade your account from a Single License to a Multi-Instrument License or a Free Teacher License.

When DOWNGRADING to a Free Teacher License you will lose your Custom Room ID (the URL you send to your students to join the lesson). The Free Teacher License requires you to log in to your account each time you want to start a lesson where you are provided a new Teaching Room ID. Once you use this Teaching Room ID, it is no longer available once you leave the call.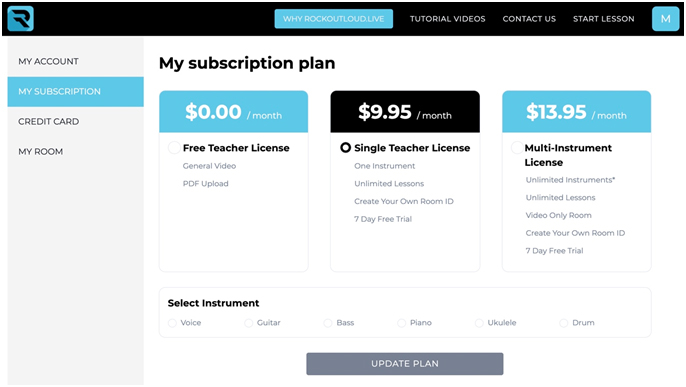 MY ROOM (Paid Subscribers Only)
As a paid subscriber you can change your teaching room name at anytime. To do so, go to MY ACCOUNT and select MY ROOM.